Do you have a seasonal LOVE for a certain candy/sweet?
It seems like I have one for EVERY season!!!
Why is it that we associate Holidays with TREATS!?
For Easter It's Peeps:
For Halloween its Candy Corn Pumpkins:
For Christmas its Brach's Christmas Candy:
For Valentine's day its a whole ASSORTMENT of things, Like: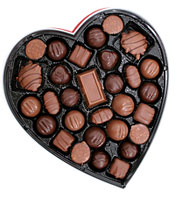 The worst part is, I JUSTIFY eating these every holiday!!!
How many times have I thought:
"Well..it is Christmas. It should be okay to eat bad, after Christmas I'll do better!"
In the midst of the challenge I'm doing, EASTER happened.
What did my family get me for Easter???
3 BIG BOXES OF PEEPS. I LOVE PEEPS!
My loving mother gave these to me, KNOWING I am NOT eating sugar right now, but assumed I would make an exception... "Because it's Easter".
This year, I decided to SAY NO to Easter Peeps.
I took this picture on the stage of the elementary school I work at, because I gave the peeps to the children/coworkers I work with instead of eating them!!!!
It was hard at first, because I truly have an ADDICTION to sugar, and these are probably the Most sugar-filled thing you could ever eat.
(anyone recovering from sugar addiction knows how I feel)
But then I felt GREAT when they were gone!
I am proud that I actively made the choice to say NO.
(and that its even possible).
I am very excited to know I can say NO to the holiday sweets this upcoming year! ITS POSSIBLE!
\
I had a great day and found these all organic, 70% dark chocolate, naturally sweetened covered almonds at the store to have for dessert!
I had a great workout as well -
I was able to hit 135 lbs 1 rep max in my front squat (NEW PR!)
& 115 lb 2 rep max!
For the second portion of the wod, I used a 26 lb kettlebell instead of the 35 lbs and had to substitute 60 singles for the double unders (that's still a developing skill for me)
Hope everyone had a healthy day!
What are your favorite holiday treats?